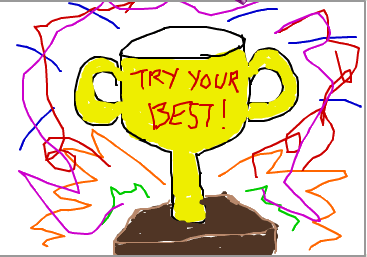 Hi everybody. Your favorite instantdoodle moderator Owel
satanismymaster and I got to talking about what else can be done with this community. We want people to just keep doodling, and we thought we could try to give members a reason to doodle.

And so we are starting the weekly INSTANTDOODLE FILO-YANG CUP, named after the founders of Yahoo. It's simple. Every Sunday, a theme will be given. It could be anything; a song lyric, a random phrase, whatever else. It's now up to everyone to interpret that theme and translate it into a doodle. People who want to enter this little contest have until Saturday to post their doodles. Just indicate in your post that it's for the contest.

What can you win? Mad props. Hahaha. We don't have much to give away, but let's just try to have fun. This is less about being super-talented with doodling and more about just being creative. We'll think of some prize along the way.

And oh, just because this contest is going on, it doesn't mean that you can't post your random doodles anymore. Just keep posting.

Winners will be picked by Owel. I think. Haha.

And lastly, Owel and I will post ouir interpretations of the theme every week, but we aren't eligible to win. Because Owel likes himself too much. =p

THIS WEEK'S THEME: LABOR DAY

Have fun everyone. TRY YOUR BEST!